Supramolecular Chemistry
In recent years Transmission Electron Microscopy (TEM) has proved to be one of the most powerful techniques to directly elucidate the structural organisation of supramolecular assemblies on the nanometer scale and beyond. A quantum leap in the field was the development of cryo-techniques, in particular cryo-TEM, which allows to study ultrastructures of self-assembled organic materials under native conditions e.g in the presence of the solvent in which the self-assembly takes place. This development is of special importance as the ultra structural organisation of molecules emerging in a supramolecular aggregation process differs in most cases significantly from its organisation in the crystal compound. Therefore, X-ray diffraction based techniques, which are indispensable in the field of protein structure analysis, are of less or even no use in the field of supramolecular chemistry.
Moreover, the recent developments in instrumentation and computation, in particular the tomographical and image processing techniques, have further sustained the importance of TEM as they help to make detailed three-dimensional structural information available.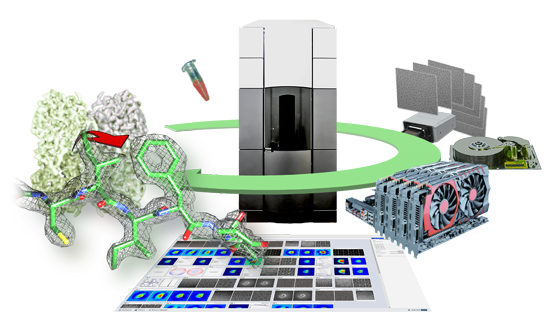 Structural Biology
Effective operation of biological macromolecules like peptides and proteins is not only controlled by their molecular construction, i.e. the sequence of the constituting amino acids, but is also substantially dependent on their three-dimensional structure (tertiary and quartary structure). Moreover, only distinctive changes of the overall shape resulting from mutual movements of the peptides subunits like twisting and folding facilitates their functionality. This mobility makes them hard targets for the classical structure analysis from x-ray diffraction.
Three dimensional reconstruction of the peptides from several thousands to millions of single images of the target protein in its frozen hydrated state from cryo electron microscopy overcomes the methodical restrictions of the crystallographic approach and allows not only for the analysis of distinct conformations but also for the identification of structural intermediates that occur during the conformational changes which helps to elucidate the mechanistic mode of operation further. Aided by a high degree of automation of our modern electron microscopes, we are able to collect the appropriate number of single images in quite recently unreckoned short times of several hours up to a few days. In that way, the so called single particle analysis (SPA) can nowadays reach resolutions down to 1.1 Å within remarkable short times.