Ludwig Group
The Ludwig group is based at the Research Center of Electron Microscopy (Forschungszentrum für Elektronenmikroskopie, FZEM) which is part of the Department of Biology, Chemistry and Pharmacy. Starting with only two operational transmission electron microscopes (TEMs), we nowadays house four high tension TEMs, one mid tension scanning electron microscope (STEM, Rühl group), an atomic force microscope (AFM, Haag group) and diverse peripherals from preparations to image processing. The latest family member, a 300 kV Titan Krios microscope, was raised for the Berlin Cryo-EM Facility. With this state-of-the-art machine for single particle analysis (SPA) we became part of the Berlin Integrative Structural Biology (BIS).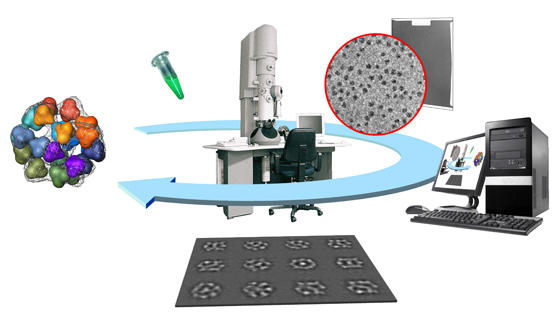 Our modern high-tech maschinery meets the requirements for soft materials, esp. of organic molecules, polymers, and biopolymers. Thus, we take centre stage in the Institute of Chemistry and Biochemistry when it comes to direct elucidation of nano structural organisation: no matter if from amphiphiles, nano particles, or proteins and protein complexes. Based on our expertise in manifold EM techniques, we were able to support numerous scientific groups, not only from Freie Universität Berlin but also in national and international collaborations.
Last but not least, we follow our own scientific projects. A comprehension of the results can be reviewed on our projects page.