The Krolow Foundation
The Krolow Foundation was established from the estates of Prof. Dr. Kurt-Dietrich Krolow in 2009 to keep his memory in honour.
Curriculum Vitae of Prof. Dr. Kurt-Dietrich Krolow
Prof. K.-D. Krolow lived from 1926 until 2008 in Berlin. He was married to Lieselotte Krolow née Engelmann.
K.-D. Krolow studied agriculture, received his doctoral degree in 1957 from Prof. H. Kappert and obtained his habilitation in 1969 under Prof. W. Hoffmann (TU Berlin). Subsequently, he was appointed as professor for Heredity and Breeding at the homonymous institute, which is now the Department of Applied Genetics of the FU Berlin. He retired in 1989.
The special interest of Prof. Krolow was the evolution of improved crop plants. In particular his research on the development of triticale, a novel crop originating from a cross of wheat and rye, has received international recognition. Today, triticale is an important crop with an annual yield of c. 12 million tons.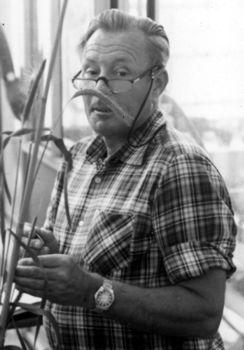 Prof. Krolow with the subject of his research (1981)
Mission of the foundation
The mission of the foundation is to support young academics in the field of applied genetic research in crop plants and crop breeding. Support can also be granted to research with other plants if this is expected to yield results, which will have an impact on the development of crop plants. The support is provided by the Krolow fund for young scientists, which has been established from the financial resources of the foundation.
A special account has been established for contributions and donations: Stifterverband/Krolow-Stiftung, Sparkasse Essen, IBAN DE39 3605 0105 0000 2252 01, BIC SPESDE3EXXX
Board of trustees of the Krolow Foundation
The Krolow Foundation is held in trust by the Stifterverband für die Deutsche Wissenschaft e.V.
A board of trustees decides about the usage of the the financial means of the Krolow fund for young scientists in accordance to the statute of the foundation.
Krolow Award
Outstanding research results that have led for example to a first-author publication in a high-ranking journal, an excellent dissertation or, in exceptional cases, an excellent master thesis may be honored with the Krolow Award for young researchers of Applied Genetics at the Dahlem Centre of Plant Sciences at Freie Universität Berlin. The research has to make a singular contribution to applied research on crop plants. In case research results promise to be relevant for the development of improved crop plants, the award may be assigned to research on non-crop plants too. The awardee receives a certificate and 1.500 Euro.
Awardees
| | |
| --- | --- |
| The awardee Dr. Isabel Bartrina proudly presenting the certificate. | In 2011 the award was assigned for the first time. The awardee Dr. Isabel Bartrina received the Krolow Award for her findings about the role of CKX genes in regulating seed yield. She published her results as first author in Plant Cell (Plant Cell 23, 69-80; 2011) with the title "Cytokinin regulates the activity of reproductive meristems, flower organ size, ovule formation, and thus seed yield in Arabidopsis thaliana". Further research projects will study the possibility to transfer results obtained in the model plant Arabidopsis to achieve an increased seed yield in crop plants. |
| | |
| --- | --- |
| Dr. Eswarayya Ramireddy received the Krolow Award in 2013 for his research aiming to improve the root system of barley with the CKX technology. The goal is to achieve an improved uptake of water and nutrients through an altered root system which should allow for a more profitable and sustainable crop production in arid areas. Dr. Ramireddy has successfully demonstrated the transfer of knowledge about the regulation of root system architecture from basic research on Arabidopsis to the crop plant barley. He is now investigating which economic and ecological impact this will have. | The donator Ms. Gisela Krolow is presenting the certificate to Dr. Eswarayya Ramireddy. |
| | |
| --- | --- |
| In November 2016, the Krolow Award was given to Dr. Anne Cortleven. Her discovery of the protective role of the plant hormone cytokinin in the plant response to high light stress, first published in 2014 in Plant Physiology, has unravelled a previously unknown function of the hormone. High light stress causes damage of the photosynthetic apparatus, thus negatively impacting biomass production and yield, Dr. Cortleven's reseach has the potential to contribute to the improvement of crop plants. | The awardee of 2016, Dr. Anne Cortleven, with the head of the Department of Molecular and Developmental Biology of Plants, Prof. Dr. Thomas Schmülling. |